Impressive resume
Dirk Pieter's resume is perhaps more peculiar than impressive.
Impressively peculiar, might be a good description.
Quick overview/Highlights
Beside his large number of pseudonyms, there is also a long list of jobs and things he has done. Not saying they are all a big success!! But at least, it kept him busy and off the streets. He worked as an employee in the printing industry, as a waiter, dog care taker, meter reader, pool handyman, photo lab technician, salesman of encyclopedias, a sugar factory worker, sales representative, free-lance software developer, was the owner of a horse carriage for tourists, creator of software which could extend the use of CD's in a way it was not intended to be, wedding photographer, financial administration adviser, owner of a somewhat illegal -but fun to do- local TV channel, creator of the no-budget commercials for his channel,  silk screen printer, designer of light signs, creator of brand new antique wall decorations, and an unpaid sailor on a Chinese ship. This is by far not everything, we just named a few.
Below some impressions, images, and little notes. After that, we will continue with the "big" story…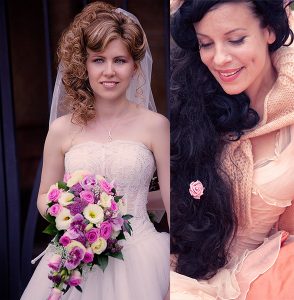 He worked as a wedding photographer, but these nice brides above accidentally passed his camera while he was busy with other things  (he couldn't resist capturing them). He has also done some press/sports photography, but those photos are in the archives and belong to, a former employer.
_____

DP as creator of brand new antique wall decorations. (Etchings in metal, based on old engravings.) Not real antique and not everyone's taste of course. However (maybe caused by their quite unique ugly appearance) they are extremely rare!
_____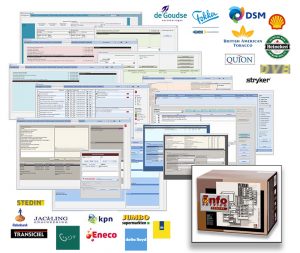 Some examples of the software made by DP. Usually commissioned by larger companies and government. But some for own expense and risk. Or just for fun, like this free 'dp shareware' (Opens new tab!)
_____
Dirk Pieter said he still has a picture of that horse thing somewhere that he used to have. (I will place the picture as soon as dp finds it.) It also shows his horse, he said. A bit small, and frankly not the most beautiful specimen of this noble animal. However, for this reason, this horse did have the unique quality that he could afford it. Financially, this little business was not a great success, but he later found that the (not to well paid) horse driver had a rather rich way of life. So, for some, it wasn't too bad.
To finance the whole project he worked as a waiter in the restaurant, whose owner lent him the money.
_____

I guess, being a salesman  of encyclopedias, brought him not too much status among artistic friends ;-), but he did anyhow.
For a while he was also a collector of large Encyclopedias. They are quite affordable these days, he said. It only takes up a lot of space! His collection contains a few rare, more than 100 years old,  first prints, as well.
On my question if he had time to read all these books, he said…
Are you mad!?  Of course not! I collect them, I don't read them!
_____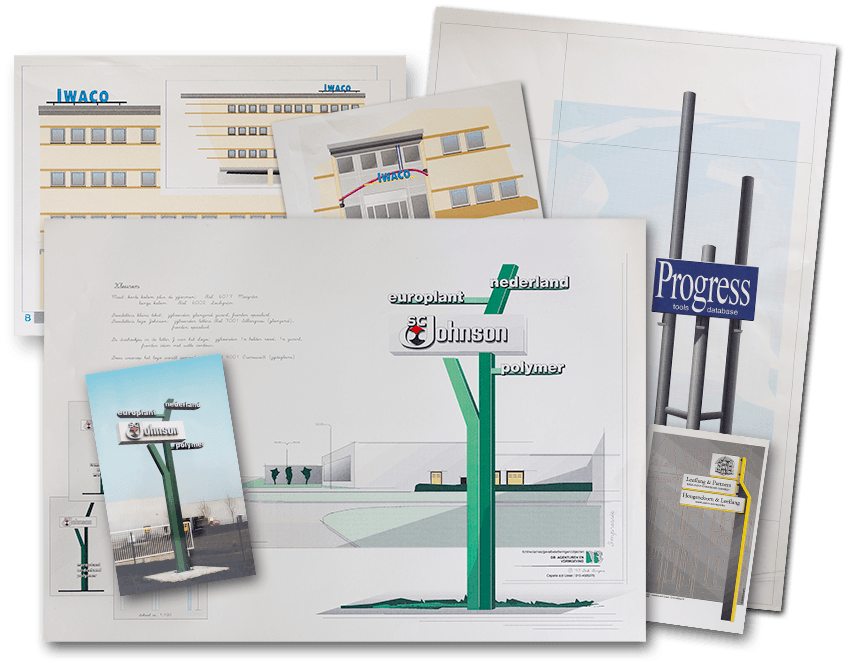 Some of the objects which dp created as light sign designer. Sometimes quite expensive objects. But he also designed signage, nameplates and billboards. He regularly offered his design risk-free. The than implied 'No cure no pay' was interpreted by some "angels" as "Thanks for the cure no pay anyway".  (This does not apply to the examples shown! The special "Thanks, but no pay anyway" -page, might be added later :-)).

_____

Sports career
Dirk Pieter, of course,  is a 'multi-talented' sports man too. He was quite successful as a judoka. At the age of 8 he was awarded with the yellow belt. At the peak of his named judo abilities, he switched, after a break of 11 years, to fencing. A sport which fits really well with his natural elegance. His best result is a third place in a field of four. Unfortunately it was an informal tournament, so no medals were given.
After another break of 10 years, he discovered table tennis. His biggest successes are found here. Unluckily he started too late to reach to Olympic table tennis levels. Never the less, after a few years of hard training, he managed in his holidays, on every French camping site he visited, to easily beat nearly every kid under the age of twelve.

Without mercy, he could beat them all!
Johan Cruyff connection
I will skip a whole bunch of experiences, and often small funny stories, and start in 1974. It is kind of historic -traumatic- year for a lot of citizens of the Netherlands. Their absolute, best ever, soccer dream team, with Johan Cruyff as Golden Soccer Angel in their middle, lost the world cup final against Germany.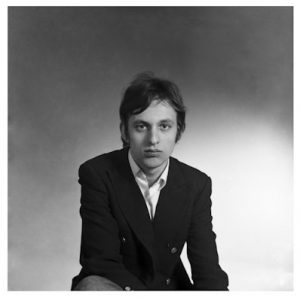 We don't know or this has anything to do with Dirk Pieter, but we noticed he was a lookalike of Johan Cruyff for some time. It happened that strangers offered him free drinks in a café because they thought he was Cruyff. It brought him often embarrassment. After he drank the accepted beer, it became a little difficult to say he was someone else.  Anyhow let start in 1974…..
Brazil connection
In 1974 he went to Brazil. Why Brazil? Well obvious, this country has everything what a country needs. The special sound of Astrud Gilberto, Copacabana, beautiful women, nice soccer (Pelé!), and the world most famous carnival. Who needs more?


Unfortunately for the Brazilians (sorry for that!) their national soccer team in 1974 where kicked out the world cup by Johan Cruyff personally! For this
reason dp might have felt he needed to remove his Johan Cruyff look with a Frank Zappa like mustache. And indeed, it happened that he got free drinks because they thought he was Frank. (As far as I know, it never happened he got free drinks because they thought he was his self! Personally I think he looks more like someone which name I forgot. Let me know if you know!!!)
Anyway, he traveled around a bit in Brazil and made a few of his first street portraits. Some of them you see below.
High society clients only!
When he ran out of money in Brazil, he got himself a little job with a local wedding photographer in São Paulo. This photographer had mostly Brazil's high society as clients. Wondering, how he managed that, the photographer told him it was because he was on top, alphabetically, of de yellow pages (phonebook). So, he was the first they called. His name was Angelo.
Nearly arrested in Amsterdam
A year later he turned back to Europe with a rather big suitcase full of biscuits. That was because these biscuits where a part of a food package given to the sailors from the ship he returned on. These biscuits were particularly unappetizing. He did not know that, so he said gratefully thanks, when a sailor gave his biscuits to him. For this reason all sailors thought he loved these biscuits. So, instead of throwing them away, all sailors gave their biscuits to him. He could not throw them away himself because that would look a bit ungrateful. So, he kept all the packages of biscuits secretly in his suitcase. When he returned in Amsterdam it made him verry suspicious when clearing customs. They thought, why on earth would someone travel around the world with a big suitcase full of cheap untasteful biscuits?
On the photo, made by dp, some of the biscuits-donating-sailors.
But also…, sometimes you can't recognize angels at first sight. When they coincidentally discovered that DP was out of cash when he left the ship, they spontaneously collected some money. Without ceremony or words, it was just given to him.
Overall context
By now, to be honest, the writer of this story realizes that telling everything would take too much time and space. It would take even more time to point out that all these little things don't stand on their own, they all fit seamlessly into an overall context.
Unbelievable coincidences
The idea behind this story was to show, that everything in live fluently caused the things that follow. Mostly, just coincidences of things that happened. Starting with the photographer whose name was Angelo, and ending with why, it must be, that Dirk Pieter could do nothing else, then starting with his 999 Angels project. It is the result of a long row of unbelievable coincidences. They all belong together. If one of the ingredients was missing or even slightly different, then the project would not exist. To clarify that everything was inevitable, see the diagram below. For now, it is the best I can do.
Your discovery
That I failed to tell the whole story, is nothing to be sad about. After all, with a little imagination you can extend and customize every story and dream (or whatever) in the way you want. Probable you can do that much better than I could do in the first place. So, the coincidence of my failure, might bring unexpectedly a few new nice things of your own. Maybe, who knows, it is your own discovery of 999 Angels.
_______________

Special request
At special request of some admirers, I have added an extra image. They asked for a larger more recent photo of the author. The best and most recent I could find you see below. I must say, all over the years, he did not change that much. He reminds me now of someone else, I forget his name as well. But I am wondering, if he still gets his free beer.
______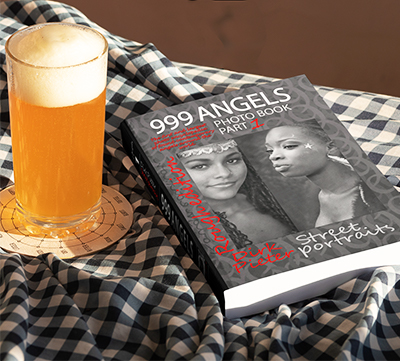 ___________________________________________________

PS
Give DP a helping hand if you can by buying, Sharing, Liking etc. Your support will encourage him to complete the whole 999 Angels project! You can make a difference in this, and it really helps! Thanks in advance!